With thousands of courier loads crisscrossing the country every day, many see the industry as a big environmental problem. However, as the FTA have shown, we are also the solution.
Zero Emissions and Zero Accidents by 2050
Chief Executive of the FTA, David Wells, used the inaugural Future Logistics Conference & Expo this November to state his confidence in the achievability of zero emissions and zero accidents from freight by 2050. Wells set out a plan at the conference which he hopes will "propel the logistics sector into a bright and innovative future, defined by technological progress, safety, compliance and employee welfare".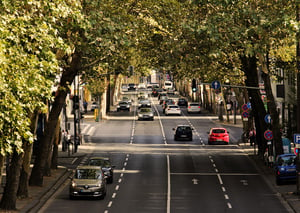 Future Logistics Conference & Expo
The conference at the Warwickshire Event Centre was the first Future Logistics event run by the FTA. The event gathered inspirational and innovative speakers together, as well as a selection of some of the most interesting technology from the freight sector.
The main themes of the day-long conference were future technologies and tools, managing people and how to optimise operations. The FTA hopes to equip the sector with the knowledge and tools it needs to embrace new tech and be prepared for imminent challenges, such as skills shortages and Brexit.
Bold Vision
David Wells has a bold vision for the future of the industry. He wants all courier loads to be delivered by vehicles producing zero emissions by 2050. He also wants to reduce fatalities and injuries from freight movements to near zero by this date. Wells is confident that, with the cooperation of businesses and government, his goal is achievable.
It is great to hear such a positive and strong statement about the future of logistics, a statement that designates skilled workers, innovative companies and cutting-edge technology as a solution to pollution and environmental issues.
Support from the Industry
With speakers from the Transport Research Laboratory, John Lewis Partnership and the Centre for Connected Autonomous Vehicles, as well as financial backing from Tevva, Bott, the Transport Exchange Group and others, this conference was well supported from within the logistics industry. Speakers demonstrated how the sector has an important role to play in cleaning up the environment and increasing road safety.
With so much innovation at the centre of courier work, now is the time to grow your business. Pick up extra courier loads, or expand your resources, on our simple to use trustworthy platform.