There aren't many people in the UK who aren't heartily sick of the word Brexit. But the truth of the matter is that as delivery industry workers we have to keep paying attention, because so much of what will (or potentially will) happen will affect us somewhere along the line.
The word is, however, that no matter which side of the fence you're sitting on, and whatever eventually (yawn) happens with Brexit, if you take on self employed courier jobsthere's a very good argument for ensuring that you keep your delivery access to Germany open for business. Why? Because it turns out German online shoppers love UK products.
Online and Doing Fine
According to the Royal Mail, over the past three months, around 20% of Germany's online shoppers have purchased a product from a UK site. As well as the fact that they can't get many of the items at home and the pricing is competitive, there's apparently a very high level of trust (81%) that their purchase is the genuine British branded product they wanted (no fakes).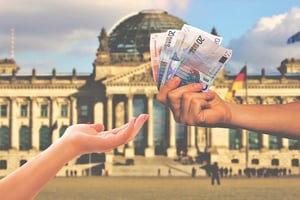 Now while it's all very warm and fuzzy that our friends in Germany trust us, that's not the real news. (Although, vielen dank you guys!) The proper good news is that all those goods making their way to Germany from UK websites have to be delivered to their new owners, some way or another. Right? And that's where the humble British delivery driver comes in.
Load Up and Cash In
The folk at Royal Mail offer a pretty reliable barometer of industry trends, so that means with the UK sites capturing one in five of the German online shoppers, that's a whole lot of goods crossing the Channel. So, if you make a living from self employed courier jobs, the German market could potentially make you a very tidy profit if you're geared up to be able to take advantage of it.
Getting a contract with a medium or large online retailer in the UK can be very lucrative if you're prepared to travel into Europe (bearing in mind the legislative changes when/if Brexit is enacted). Of course not every driver has the capacity or desire to do those longer haul self employed courier jobs, but for those who do, the rewards and lifestyle can be very appealing.
Because the majority of the goods purchased by German online shoppers are classified as small items (books, shoes, clothing), if you've got a van with a reasonable capacity you'll be able to take on regular runs into Europe.
So, the advice is that no matter how the Brexit cookie crumbles, there are still plenty of opportunities for the forward thinking delivery driver to keep the door to Europe slightly ajar…
If you think you'd like to take on some self employed courier jobs delivering to Germany or anywhere else in Europe, the Courier Exchange platform is the perfect place to find and bid for work you may otherwise not know about.