With marathon season in full swing, anyone who has ever completed one will tell you that it is the last three miles – and not the first twenty-three – that really count. For Courier Exchange members on four wheels, who traverse one of the largest cities each day, it is the final mile of their journey that is often the most crucial.
In this highly competitive sector, delivering goods to the customer as quickly and as efficiently as possible is often what separates a good logistics provider from a great one. But, in this very crowded market place, how do you deliver industry-leading last-mile logistics if you are a small or small to medium sized operator, and at the same time, compete on a level playing field with the largest courier firms?
It was a question that Sunny Mistry, the Managing Director of En-Route Logistics – a Leicestershire-based same day courier firm, would ask himself time and time again, until he found Courier Exchange.
Explains Mistry, who uses the Exchange's virtual fleet and his specialist, privately owned vehicles to provide final mile delivery services to many of the UK metropolitan centres, says, "Before we joined CX, we found that competing with established players in the last mile logistics field was virtually impossible. They had all the trump cards – large, diverse and modern fleets from which they were able to provide a speed of service that we simply were unable to match.
He continues, "However, CX transformed our last mile delivery capability in one swoop. How? Because it has opened up new doors to my company. Since joining in January, 2017, we have been able to network with a wide range of logistics providers and can now cover any delivery for our customers – whatever the location – always ensuring same day delivery and receipt of the goods within a thirty minute to one-hour time slot. The real-time agility that the platform affords, is further strengthened by the vast pool of skilled couriers belonging to the platform, who receive a rating for each job. In my experience, this added layer of compliance ensues that pretty much all of the jobs we give to subcontractors are performed to an excellent standard."

Mistry, who set up the company four and half years ago and says he uses Courier Exchange around 40 per cent of the time, accepts 300 jobs from CX each year, and posts loads too. He says that its modern and mixed virtual fleets is what sets it apart.

"To be successful in last mile logistics you need to be prepared and able to carry a range of different sized goods at very short notice. Some jobs require an enhanced level of security clearance which the average fleet might not possess, others need a specialist-type category of van or small truck, which not every fleet – large or small – has. Therefore, to have access to a highly eclectic fleet and a pool of skilled and experienced freelancers at the touch of a button, has helped move my business to the next level."
North of the border, Dode Fraser, the owner of Pronto Despatch, and one of Courier Exchange's longest serving members, agrees that the platform has transformed its final mile capability potential.
Says Fraser, whose company is based in north-east Scotland. "We've always known that we had the skillset to service national accounts, but not the scale. Our past ambitions were always thwarted by the size of our permanent fleet which totals just ten vehicles. But CX solved our issue instantly by providing us with access to its virtual fleet of 42,000 vehicles. In short, the CX platform has turned us from a regional operator to a national one, meaning we can serve last mile requirements in most UK cities."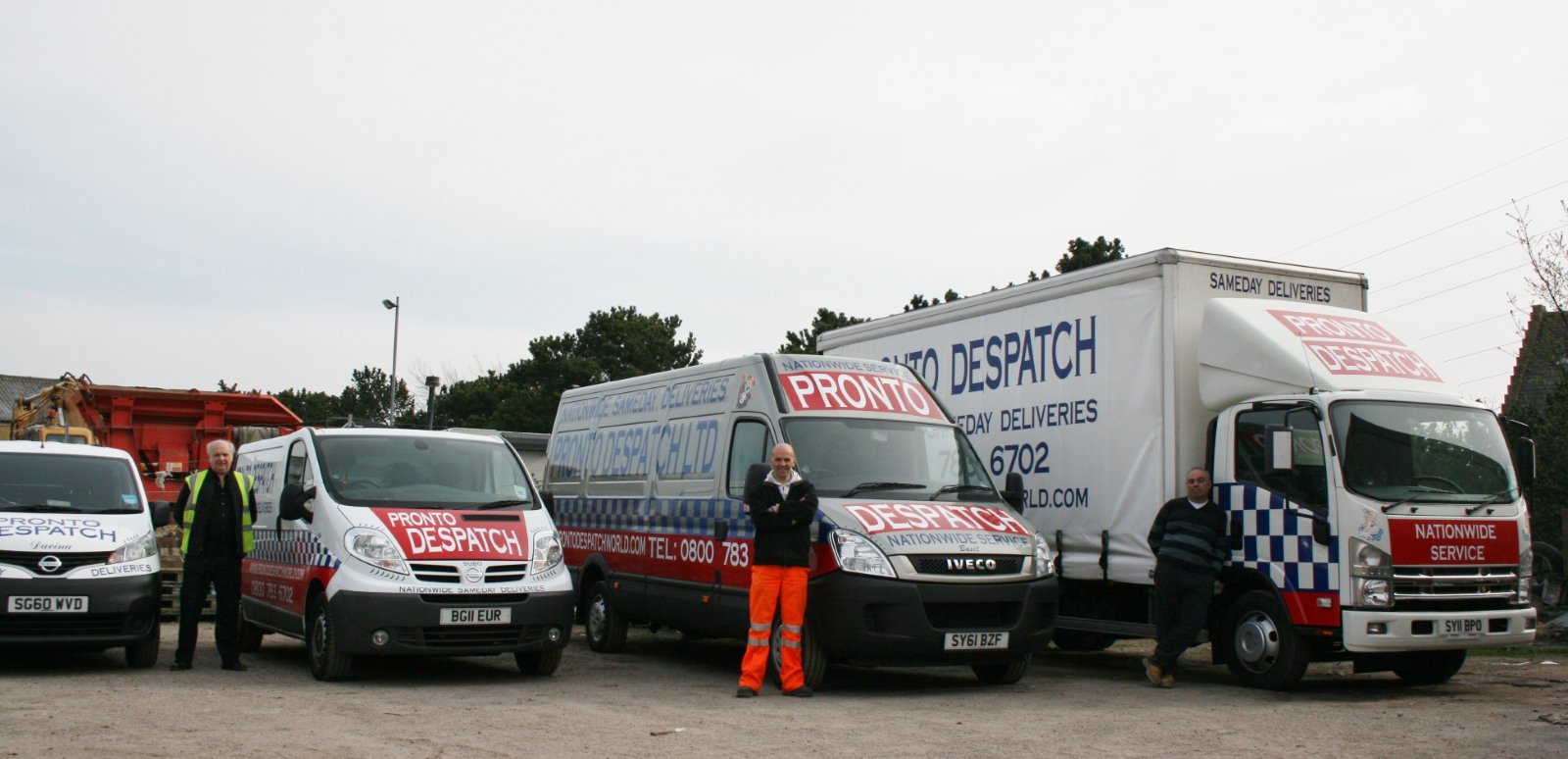 In 2017, Pronto Despatch posted over six and half thousands loads on the Exchange, many of which were last mile logistics jobs fuelled by the dramatic growth of e-retail and B2B growth.
Fraser explains, "Our business used to be focused on Scotland's major population centres, but now, thanks to the CX virtual fleet, we have the real-time ability to deliver to any city in the UK and the dexterity to arrange pick-up in an hour. I would estimate that 75 per cent of business is covered via the Exchange, and takes place in southern and central half of the UK."
While CX has helped Pronto Despatch to get maximum value from its large and diverse virtual fleet, the platform also provides an excellent living to many thousands of highly-skilled and compliant owner operators – freelancers like Mark Clutterbrook – who compete for the 3,500 jobs posted each day by logistics providers. So how is Clutterbrook, and thousands of others like him, utilising CX to thrive in the final mile delivery operating landscape?
Clutterbook, who is based in Southampton, explains, "For an owner operator, like me, version (3.2) of the App has been utterly game changing as it has given me instant access to a transparent marketplace where I can win work. All I need to do is set my 'status' on the Mobile App to 'green'. My real-time position is then flagged to all members notifying them that I am available to take a job. It is amazing to think that the technology, which fits into the palm of my hand, gives me exactly the same access to the marketplace as a transport manager working for a large 3PL or 4PL."
But to flourish as a same day operator in the last mile logistics sector, technology that improves operational efficiency is most valued, and for Clutterbrook there are a few features which have been developed for the new App which stand out.
"The 'on my way to pick up' feature is a brilliant new addition as it negates the need for three-way phone communication between contractor, sub-contractor and customer. Once I tap the 'on my way to pick up' button, not only does it notify all parties that I have set off, it flags my position in real-time on the LAM so everyone involved in the transaction can monitor my location. This new functionality, really comes into its own on last mile runs where getting the goods to market on time is key."
Clutterbrook also believes that the new electronic Proof of Delivery (POD) and the new invoicing feature, which allows him to send invoices while out and about, has improved output and his general effectiveness.
"This new technology allows me to scan the paper copy of the signed delivery note and email it directly to the customer. Not only is it saving an hour each day, which will enable me to be on the road for longer, but it will prevent disputes, and will reduce my stationery costs, which is a huge benefit for a small business."
Clutterbrook continues, "Every month, I probably spend at least ten hours creating, filing and sending invoices and PODS to my clients. It is not something that I can avoid or put off if I want to get paid. Now, however, thanks to the ready-made professional template, I can just email them to the client in one click. This means I can allocate more time to winning new business."
Just as well – as the London Ultra-Low Emission Zone (April, 2019) and creation of nine Clean Air Zones (CAZs) in Birmingham, Derby, Leeds, Nottingham, Southampton (January, 1, 2020), and four in Scotland (all zones operational by 2020), are likely to impact on small to medium sized operators unable to meet Euro-6 standards.
It is not something that Dode Fraser, the Managing Director of Pronto Despatch has to worry about. He has re-invested some of the profits from Courier Exchange into upgrading all the vehicles in his fleet to Euro-6 requirements, but he is concerned for smaller operators and local traders who might also be adversely affected by the Low Emissions Zone (LEZ) charge. He believes, however, that collaborative logistics is one of a raft of measures that the freight sector could employ to lower LEZ taxes for owner operators.
"If the government and industry builds large consolidation and distribution centres on the fringes of LEZs in Glasgow, Aberdeen, Dundee and Edinburgh in the future, it ought to be possible, through an Exchange, for non-compliant vehicles to connect with Euro-6/VI vehicles, and for those vans or trucks to transport goods for the last mile of the journey. With the transition from Euro 6/VI vehicles to zero emission ones likely to take much longer, it would probably be worth investing in high-tech cross-docking infrastructure."
But all in good time. As they say – it's a marathon, not a sprint after all…