Find out how to get a meteoric boost to your business by using our Courier Exchange site just like Red Rocket Couriers.
A membership to our great platform can truly be a game changer for those who are ambitious and business-minded. We spoke to a valued member to see how our Courier Exchange site contributed to his success.
Up, Up, Up and Away
When Lee Gueller, owner of Red Rocket Couriers, recently spoke to us about his business, he said that our courier Exchange site was key to Red Rocket's growth. We wanted to find out a little more about how Red Rocket use Courier Exchange day-to-day.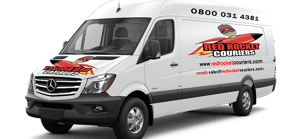 "The Best Business Decision I Ever Made"
When Gueller started his company, it was just him and a van. Many of the people who use our platform start out the same way but grow due to the opportunities they find here. Now, Gueller employs three drivers and, of course, has access to our Courier Exchange site. This means he can call on our virtual fleet all over the UK to fulfil jobs his drivers can't get to.
Gueller starts using the CX App at 7am, fielding requests and planning for the day. Live alerts coming through in real time is a top feature, according to Gueller, as timing can either win you or lose you a load.
Communication is Key
Gueller also uses the CX App every day to help him communicate with clients. Good communication, as we all know, is the key to happy customers. His drivers switch on the 'on my way to pick up' feature to let clients know when their job is underway. Clients can then track the drivers on a real-time map. Gueller credits this with the many positive reviews Red Rocket has received, as clients can track their driver and know exactly when they are likely to arrive.
If you too want to reduce the number of angry "where is my delivery" calls you get, check out the CX App.
"Good for Them, Me and the Environment Too"
Gueller believes – and we agree – that our courier Exchange site has levelled the playing field, giving everyone more opportunities. He also remarked on the opportunities to increase profit by using the CX platform. When a driver sets off on a journey without a return load, they can simply post their availability to the Exchange and are highly likely to pick up a backload. Gueller's drivers also make use of the Live Availability Map. If they start their return journey without a backload, they can pick one up on the way. In fact, Gueller estimates that 99% of the time his drivers return with a full load. This is great news for Red Rocket as a business, and the increased efficiency is great for the environment too.
If you want to lift off like Red Rocket, then you need a Courier Exchange membership. Call us to find out how to get a boost to your business that is out of this world!