AEB Should Be Fitted to All Courier Vehicles
In good news for the courier industry, Volkswagen Commercial Vehicles is championing the installation of Autonomous Emergency Braking in all commercial vehicles.
Everyone involved in courier work knows friends and colleagues who have had close calls on the roads, and if you're a driver then you will likely have experienced a few close shaves yourself. Like me, you are probably going to welcome any sensible safety improvements in vehicle manufacturing.
Commercial Vehicles and AEB
As 2017 sadly saw road deaths at the highest they have been in the past five years, improving road safety should be a number one priority for road users. Volkswagen has argued that fitting AEB on all commercial vehicles could prevent about 2,500 crashes per year. The Department for Transport agrees that hundreds of lives could be saved, and many serious injuries avoided if all vans under 3.5 tonnes were fitted with AEBs.
Leading the Pack: Volkswagen
Since early summer all Volkswagen Caddys, Transporters and Crafters have come with an autonomous emergency braking system as standard. The company is really acting as a trailblazer as they are the only manufacturer installing this important technology throughout its range. This means that jobs carried out in the newly purchased models are safer for both the driver and those around them.
Other Benefits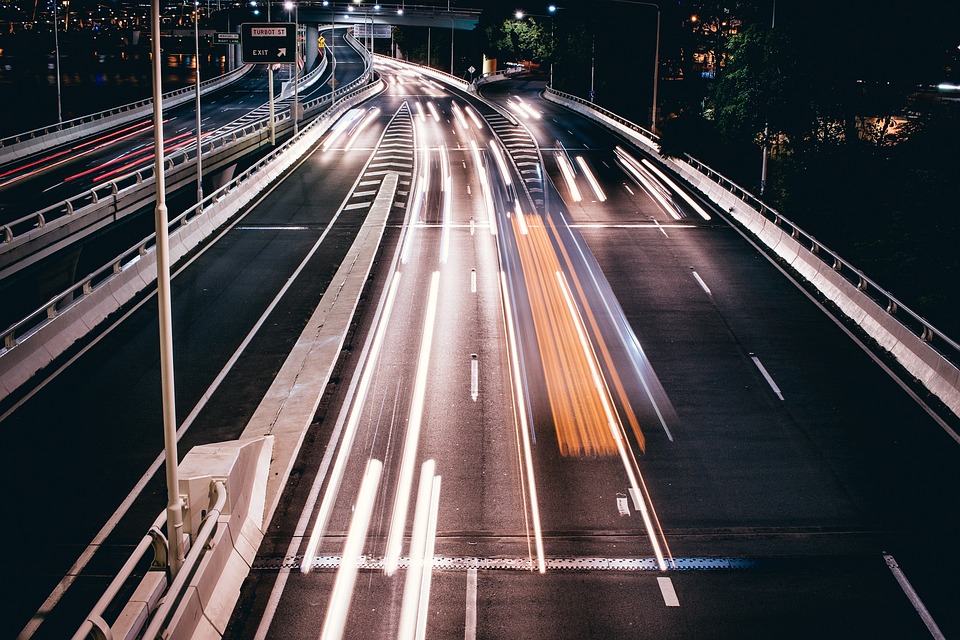 Though safety is key, at Courier Exchange we understand that drivers also have other concerns. Courier work uninterrupted by accidents means less downtime for drivers, fewer costs, less third-party insurance claims and insurance premium savings. All this simply means that doing your courier work in a vehicle fitted with AEB could save you some serious money. In fact, the new Crafter model by Volkswagen had its insurance rating reduced by an impressive four groups due to the autonomous emergency braking system.
With more and more people on the roads, increasing the chance of accidents every year, we hope that technology that improves the safety of all drivers, such as AEB, becomes standard across all manufacturers.
In part six of our series on the pros and cons of green fuels for courier work, we take an in-depth look at the viability of hydrogen for your fleet.
Looking to the Future
Unlike some of the other green options we have mentioned in this series, hydrogen is only just becoming a viable option as a road fuel. Fleet operators looking to move towards hydrogen-powered vehicles will be pioneers in the industry. Though there are hybrid vehicles commercially available, at the moment there are no vans on the market powered solely by hydrogen.
Performance
To provide power, hydrogen is either burnt in an internal combustion engine or used to generate electricity through a Fuel Cell. All commercially available vehicles appropriate for a courier driver are hybrids. They use the internal combustion engine and petrol or diesel to power the van. This set up has both pros and cons in terms of performance.
On the Road
To a courier driver, these hybrid vehicles will feel familiar as they operate similarly to standard diesel vans. A range of 180-200 miles has been achieved on hydrogen. However, a benefit of these models is that if the hydrogen runs out, hybrids can run on diesel. In terms of courier work, the load space is not affected by the storage tanks, though payload is reduced a little.
Environmental
With governmental regulations concerning pollution in cities likely to get firmer over the next few years, a vehicle's environmental performance is important. A green vehicle could help you avoid fines, taxes and extra charges. Unfortunately, hybrid vehicles do still produce some harmful emissions such as carbon dioxide and hydrocarbons. However, the tailpipe emissions are still considerably lower than the equivalent diesel model.
Where to Refuel?
For a courier driver, the ability to easily refuel is key to ensuring an efficient service. At the moment, the infrastructure which will allow flexible refuelling for hydrogen is still being created. There are just thirteen refuelling stations across the country with a few more in the planning. If you are considering hydrogen for your fleet, proximity to one of these stations is necessary.
Hungry for hydrogen? It might take a few more years for this green fuel to become a commercially viable option for the regular courier driver. However, it is always worth looking to the future to stay one step ahead of the competition.
There is nothing more satisfying for a business owner than seeing the fruit of their labour prove its worth. We at Courier Exchange are no different, and when we are part of a company's success story we feel good. Here is one such story.
Imagine taking the plunge and striking out on your own as an owner driver. Then after just a year or two your company begins to win awards such as the Transport Exchange Group's Best Newcomer Award, swiftly followed just 3 years later by the Company of The Year Award. You watch as your business grows from a 'one-man-show' to a highly regarded company with a fleet of 13 vehicles, 11 employees sourced from a reliable driver network, and a diverse and loyal customer base.
In fact, this dream became HSP Couriers' reality, and it is one that the Courier Exchange sees, in a variety of forms, more frequently than you can imagine.
A Reality
HSP Couriers is the success story that we all love to hear. Operating out of Northampton, the business idea was dreamt up by Hiten Patel who simply identified a market for same-day courier services and created a way to fill it. Although the idea was simple enough, Patel has attributed its ultimate success and rapid growth to his early involvement and membership of the Courier Exchange.
Benefits of Belonging
As a newcomer to the industry Patel utilized the Exchange exactly the way it was intended. When asked about HSP's success he said:
"Having just launched the business I took the decision to join the Exchange as not only as a means of gaining work but also to provide me with a greater insight into how the business worked. The fact that we had access to thousands of member businesses gave us a huge kick start. Even though we had customers based around Northants, they have connections all over the country and the Exchange has allowed us to handle these on behalf of our customers."
From Strength to Strength
HSP Couriers continues to grow and continues to use the Courier Exchange to generate work, increase their team numbers through the driver network, enhance their business presence, and network with other companies. Patel's personal and business successes are exactly why the Courier Exchange exists. A results driven and goal oriented group working in the interest of the industry's greater good.
The Proof is in the Pudding
The Courier Exchange has had the privilege of being part of many success stories. The courier and transport industry's continued growth is paramount to all that we do and the best way to make that happen is through investing in our member's needs. The benefits of joining the Courier Exchange speak for themselves and the only way to continue to grow is by doing it together. Give us a call to be part of the story.
In our world of never-ending stressors and constant day-to-day challenges staying calm behind the wheel does not seem like it should be a top priority. However if the highways, byways and inner-city roadways happen to be your workplace keeping your cool while on the job can be a matter of life or death to both you and the occupants of the vehicles all around you.
Let's face it, humans do not have the best track-record of being 'nice' to each other and there is certainly something about operating a vehicle that can bring out the absolute worst in people. So when getting from A to B is literally 'your job' your priority at the end of the day needs to be remaining calm and driving on.
Road Rage
Whether you are a long-haul truck driver or a self employed courier chances are we've all encountered some form of road rage on an almost daily basis during our years behind the wheel. The most common forms are generally aggressive manoeuvring and speeding, although in recent years the level of actual violence originating from road rage incidents has increased. So, given that we cannot control other people's behaviour our power lies in the way we respond to it.
Zen Master
A few tips on becoming, and maintaining, a zen-like state while on the road can vary according to the situation.
Anger begets anger. In an altercation both sides are generally looking to escalate each other's response to aggressive actions. Don't be provoked into endangering yourself and others purely to get back at another driver's baiting.
Kill them with kindness. Although it may be the last thing you want to do, giving a friendly wave or a smile at the motorist hassling you will keep you in control. Your lack of response will usually frustrate them into giving up and moving on.
It's all about You
On the flip-side it is fair to say that the drivers most likely to experience road rage are those who spend the most time on it. It is worth remembering that our actions represent a larger cause.
If your vehicle has your employer's name emblazoned all over it you are a walking talking, and driving representative of that company. More importantly a self employed courier or driver puts his reputation on the line every time he gets behind the wheel. The success or failure of your business is at stake so staying calm is more important than ever.
These are a few ways to give yourself the best chance.
Be sure to know your route and give yourself plenty of time.
Use your Sat nav and any traffic alerts available. Avoiding an existing traffic jam can save your sanity.
Take deep breaths.
Choose your music carefully to keep yourself in a more relaxed state.
Be sure to avoid fatigue by taking breaks, eating regularly and get a good night's sleep so you can hit the road rested and ready for the day.
Fundamentally, we all know that driving as a self employed courier or a truck driver will always be a job that comes with frustrations and requires nerves of steel. Remember why you do this job and all the good reasons that it keeps you behind the wheel. It takes a particular set of skills to survive the road, have you got them?
Birmingham is developing plans to introduce a Clean Air Zone by 2020. How will this affect courier work across the city? The Council wants to find out.
Like many cities getting to grips with the problem of pollution, Birmingham is reaching the final stages of planning its Clean Air Zone. To meet Government rules, the zone has to be in place by 2020.
The public will get to have their say on the plans by the end of the summer. However, this national hub really relies on courier work, haulage and logistics both practically and economically. This is why the Council has been working in collaboration with the logistics industry. They want to figure out how to make changes without negatively impacting this important industry.
The Plan
The City Council has suggested that all roads inside the A4540 Middleway ring road be part of the new Clean Air Zone. Vehicles that could be charged include:
Lorries and vans
Buses and coaches
Taxis and private hire vehicles
Private cars
Vehicles with 'clean' engines won't have to pay. Birmingham City Council is under orders from the Government to meet legal air quality limits and it is just one of many regional centres working towards these targets.
Impact on the Industry
It's well known that the haulage industrial is economically important to Birmingham and the City Council are certainly aware of this. They have been in consultation with a variety of bodies, including ACFO, to discuss how their plans could positively or negatively affect businesses. They also are interested in what local businesses might need to help them comply with the changes. For example, Government funding to make the switch to cleaner fleets.
It's great that the Council are having these consultations before plans are finalised as it means that the opinions and expertise of industry insiders will be taken into consideration. The final scheme will be as positive for the future of courier work as possible.
Everyone in the industry knows that change is coming. The Government's targets of cleaner air by 2020 mean that all of us, from self-employed couriers to fleet managers, need to make sure that our long-term plans for fleet development include ways to meet emissions standards.
Some of the most high-tech inventions of our time seem like they could almost have come straight out of a science fiction film…I mean, autonomous vehicles? Delivery robots? It all seems so unreal, but it's 100% true. Sometimes reality truly IS stranger than fiction.
The future is now – and it's all self-driven, baby. At the 2018 Futuristic Logistics Seminar, held at the Hallam Conference Centre in London, Triangle Management gave a glimpse into the latest technologies that are moulding the delivery industry into something the world has never seen before. This article from Post&Parcel will give you the full scoop on the recent developments of the software and hardware the logistics world may be implementing in the near future.
From autonomous vehicles to pavement-level robots, here are some almost unbelievable inventions that are bringing haulage into the 22nd century.
Delivery Drones
Are ideal for suburban and rural areas.
Can deliver to parcel locker terminals.
However, they are less suited for an inner city environment.
Pavement-Level Delivery Robots
Used in cities.
Reduce road emissions and road congestion.
Profitable and cost-effective (robots don't require a paycheck).
Could make local delivery services more affordable, which would increase sales for small shops.
However, robot expansion will take time – there are the challenges of regulatory barriers and operational integration.
eBikes
Existing bikes can be easily converted into electric bikes – this saves time and money.
eBikes are used by humans, and human couriers are better at interpersonal interactions between customers and staff members.
Can quickly and easily be integrated into the delivery world.
Autonomous Vehicles
Virtual loading bays and smart parking could reduce road congestion and make inner city deliveries quicker.
Robots, drones and eBikes, oh my! What do you think about these futuristic logistics? Do you think they'll improve the courier business – or are robots going to become sentient and overpower mankind if we're not careful?
Every good business owner knows that keeping the customer happy is their main priority – and there's nothing that does that like a good laugh.
Customer service is an essential part of running a successful courier driving business – if you had no one buying your services, neither your vehicles nor your operation would get anywhere.
If you pride yourself on going above and beyond for your clients, and you are always looking for customer-approved trends to try out on your own client base, you might be interested in the latest craze. Comedy.
DPD Group composed The Laws of Delivery, a humour-infused mini video series about their clients' greatest woes. With laws ranging from 'It's Never the Right Time' to 'It Always Takes Longer Than You Think,' these clips contain no dialogue and are an average of 20 seconds long (nothing too taxing for short attention spans). My personal favourite, 'There's Never Enough Time to Drop Off Your Parcel,' shows a man glancing forlornly at a parcel by his door every time he leaves his home. There's never a good time to take the parcel to the post office.
By using humour and scenarios that most people relate to, DPD Group demonstrates to their customers that they are aware of their needs. They're using humour and empathy to sell their services – why doesn't the customer avoid the hassle of the post office and drop their parcel off at one of DPD's many convenient locations instead?
Take a leaf from their book and consider trying unusual ways to market your customer service skills – DPD has stumbled on the perfect mix of entertainment, comedy and information.
Laughter is the Best Medicine
Today's customer is looking for a company that's able to present its human side – after all, no one wants to do business with a robot. The easiest way to show your humanity is by cracking a joke or two. Play around with your written material. It doesn't have to be stuffy and boring, and you can even branch out to visual and audio content as well. Make it conversational, personable and funny to read – but most of all, make it your own.
Try these tips to make your business more relatable to customers – nothing brings people together like laughter.
Often it's the small steps that we take that are the key to realising big ambitions. But if you don't believe me, then just ask Andrew Hough, an Aberdeen-based owner operator, who joined Courier Exchange in August last year.
Andrew Hough, founder of Aberdeen Light Haulage
When Hough, a retired public servant, founded Aberdeen Light Haulage in May last year, he took a conscious decision to grow his business gradually, and he says that Courier Exchange's safe and secure trading platform has really helped him to find his feet. But it wasn't always that way. He has vivid memories of the difficulties he faced before he became a member.
Hough recounts, "I have always loved logistics and I spent many happy years in Manchester working for a large Haulier in Trafford Park before I began my career in local government. When I left Aberdeen City Council last year, I decided to start my own dispatch company. But a lot had changed since I last drove for a living. I bought a small van – a 1.8 litre Ford Transit Connect – but found the courier same day drop-off landscape to be crowded and at times cut-throat. Sure – there was no shortage of work, but the marketplace seemed to be dominated by large consumer delivery companies, which were paying very little. To cover my overheads and support my wife, the money they were offering simply wasn't enough."
But perhaps most importantly, Hough says CX taught him the value of "learning to walk before he could run".
"The Exchange runs an Academy programme for those, like me, who aren't new to the freight sector, but have been out of the game for a long time, or for people new to the industry. It teaches the basics from accepting a job to post-delivery reporting when you have completed one. I also invested quite a lot of time in familiarising myself with the CX Mobile App, which is the source of all my work helping me to regulate and dictate the pattern of my day. Laying these important foundations was vital before I decided to hit the roads."
With the basics under his belt, Hough says that he has recorded "consistent and constant growth month on month" with CX now accounting for 95 per cent of all his work.
"Many of my core clients are in the Oil & Gas industry and the agricultural and fishing sectors. The beauty of the Exchange is that once you have built up a network of customers, it is reputation, and not name, that wins you the most profitable loads. Over the last nine months, I have worked hard to deliver a professional and timely service to every client that I have worked for, and this is reflected in the online feedback I've received. The CX feedback system is perhaps the most useful tool available to operators when they are subcontracting loads, as they ensure that drivers maintain services levels 24/7, 365 days a year."
But the Exchange has also helped Hough to cultivate and nurture a brand new client base further afield too.
Says Hough, "CX has increased my earning opportunities tenfold and as a result the scale and scope of my work has widened considerably. While I operate in Scotland's main cities, there is also increased demand for our services in Manchester, Birmingham and Southampton. The Exchange also generates a plentiful stream of backloads which more than covers my mileage home to Aberdeen.
Continues Hough, "Most of all though, the Exchange has given me the freedom to earn a good living on my terms, which allows me to spend more time in the garden and go on regular caravan holidays with my wife. That, for me, is the greatest benefit."

With marathon season in full swing, anyone who has ever completed one will tell you that it is the last three miles – and not the first twenty-three – that really count. For Courier Exchange members on four wheels, who traverse one of the largest cities each day, it is the final mile of their journey that is often the most crucial.
In this highly competitive sector, delivering goods to the customer as quickly and as efficiently as possible is often what separates a good logistics provider from a great one. But, in this very crowded market place, how do you deliver industry-leading last-mile logistics if you are a small or small to medium sized operator, and at the same time, compete on a level playing field with the largest courier firms?
It was a question that Sunny Mistry, the Managing Director of En-Route Logistics – a Leicestershire-based same day courier firm, would ask himself time and time again, until he found Courier Exchange.
Explains Mistry, who uses the Exchange's virtual fleet and his specialist, privately owned vehicles to provide final mile delivery services to many of the UK metropolitan centres, says, "Before we joined CX, we found that competing with established players in the last mile logistics field was virtually impossible. They had all the trump cards – large, diverse and modern fleets from which they were able to provide a speed of service that we simply were unable to match.
He continues, "However, CX transformed our last mile delivery capability in one swoop. How? Because it has opened up new doors to my company. Since joining in January, 2017, we have been able to network with a wide range of logistics providers and can now cover any delivery for our customers – whatever the location – always ensuring same day delivery and receipt of the goods within a thirty minute to one-hour time slot. The real-time agility that the platform affords, is further strengthened by the vast pool of skilled couriers belonging to the platform, who receive a rating for each job. In my experience, this added layer of compliance ensues that pretty much all of the jobs we give to subcontractors are performed to an excellent standard."

Mistry, who set up the company four and half years ago and says he uses Courier Exchange around 40 per cent of the time, accepts 300 jobs from CX each year, and posts loads too. He says that its modern and mixed virtual fleets is what sets it apart.

"To be successful in last mile logistics you need to be prepared and able to carry a range of different sized goods at very short notice. Some jobs require an enhanced level of security clearance which the average fleet might not possess, others need a specialist-type category of van or small truck, which not every fleet – large or small – has. Therefore, to have access to a highly eclectic fleet and a pool of skilled and experienced freelancers at the touch of a button, has helped move my business to the next level."
North of the border, Dode Fraser, the owner of Pronto Despatch, and one of Courier Exchange's longest serving members, agrees that the platform has transformed its final mile capability potential.
Says Fraser, whose company is based in north-east Scotland. "We've always known that we had the skillset to service national accounts, but not the scale. Our past ambitions were always thwarted by the size of our permanent fleet which totals just ten vehicles. But CX solved our issue instantly by providing us with access to its virtual fleet of 42,000 vehicles. In short, the CX platform has turned us from a regional operator to a national one, meaning we can serve last mile requirements in most UK cities."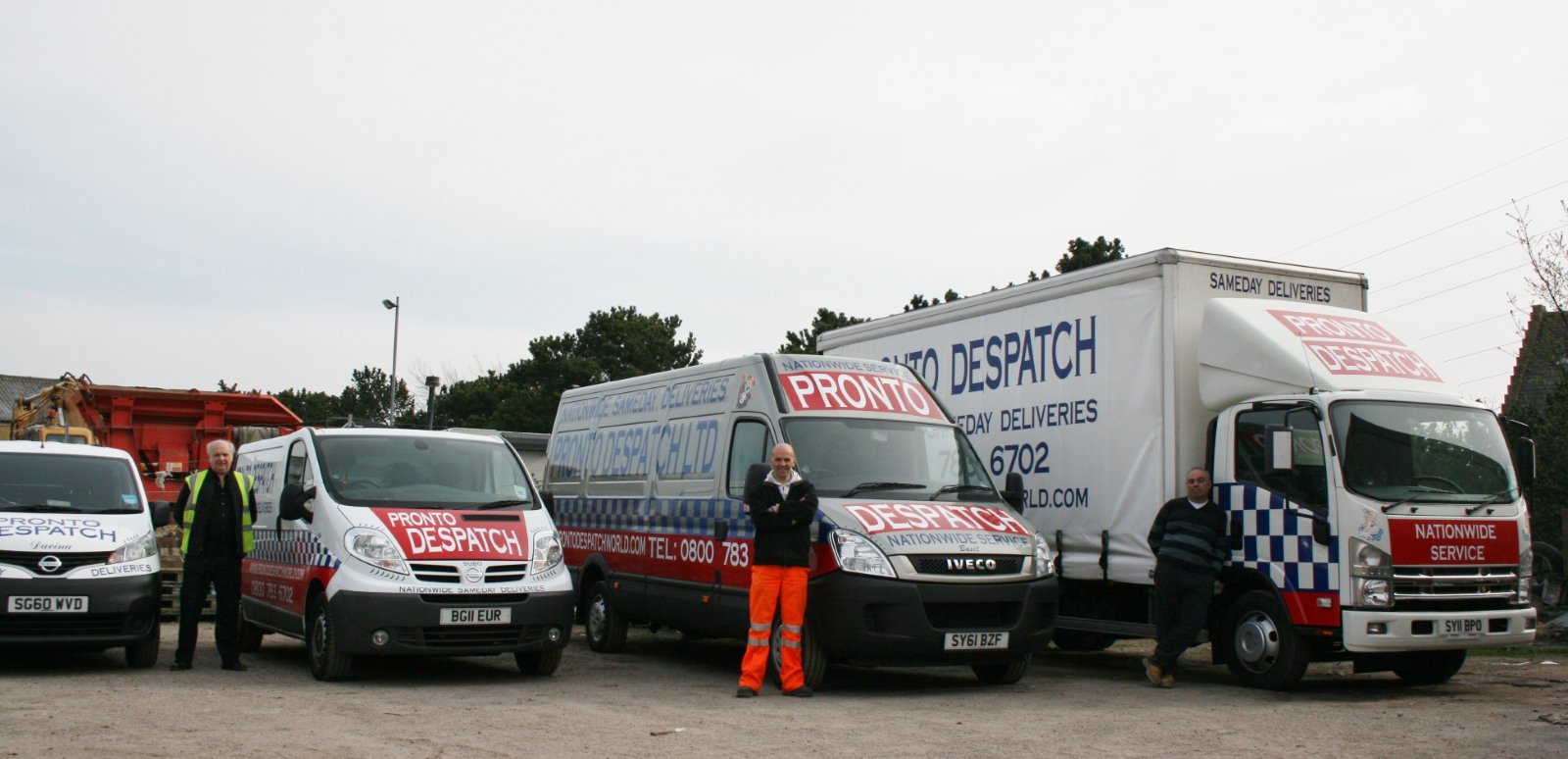 In 2017, Pronto Despatch posted over six and half thousands loads on the Exchange, many of which were last mile logistics jobs fuelled by the dramatic growth of e-retail and B2B growth.
Fraser explains, "Our business used to be focused on Scotland's major population centres, but now, thanks to the CX virtual fleet, we have the real-time ability to deliver to any city in the UK and the dexterity to arrange pick-up in an hour. I would estimate that 75 per cent of business is covered via the Exchange, and takes place in southern and central half of the UK."
While CX has helped Pronto Despatch to get maximum value from its large and diverse virtual fleet, the platform also provides an excellent living to many thousands of highly-skilled and compliant owner operators – freelancers like Mark Clutterbrook – who compete for the 3,500 jobs posted each day by logistics providers. So how is Clutterbrook, and thousands of others like him, utilising CX to thrive in the final mile delivery operating landscape?
Clutterbook, who is based in Southampton, explains, "For an owner operator, like me, version (3.2) of the App has been utterly game changing as it has given me instant access to a transparent marketplace where I can win work. All I need to do is set my 'status' on the Mobile App to 'green'. My real-time position is then flagged to all members notifying them that I am available to take a job. It is amazing to think that the technology, which fits into the palm of my hand, gives me exactly the same access to the marketplace as a transport manager working for a large 3PL or 4PL."
But to flourish as a same day operator in the last mile logistics sector, technology that improves operational efficiency is most valued, and for Clutterbrook there are a few features which have been developed for the new App which stand out.
"The 'on my way to pick up' feature is a brilliant new addition as it negates the need for three-way phone communication between contractor, sub-contractor and customer. Once I tap the 'on my way to pick up' button, not only does it notify all parties that I have set off, it flags my position in real-time on the LAM so everyone involved in the transaction can monitor my location. This new functionality, really comes into its own on last mile runs where getting the goods to market on time is key."
Clutterbrook also believes that the new electronic Proof of Delivery (POD) and the new invoicing feature, which allows him to send invoices while out and about, has improved output and his general effectiveness.
"This new technology allows me to scan the paper copy of the signed delivery note and email it directly to the customer. Not only is it saving an hour each day, which will enable me to be on the road for longer, but it will prevent disputes, and will reduce my stationery costs, which is a huge benefit for a small business."
Clutterbrook continues, "Every month, I probably spend at least ten hours creating, filing and sending invoices and PODS to my clients. It is not something that I can avoid or put off if I want to get paid. Now, however, thanks to the ready-made professional template, I can just email them to the client in one click. This means I can allocate more time to winning new business."
Just as well – as the London Ultra-Low Emission Zone (April, 2019) and creation of nine Clean Air Zones (CAZs) in Birmingham, Derby, Leeds, Nottingham, Southampton (January, 1, 2020), and four in Scotland (all zones operational by 2020), are likely to impact on small to medium sized operators unable to meet Euro-6 standards.
It is not something that Dode Fraser, the Managing Director of Pronto Despatch has to worry about. He has re-invested some of the profits from Courier Exchange into upgrading all the vehicles in his fleet to Euro-6 requirements, but he is concerned for smaller operators and local traders who might also be adversely affected by the Low Emissions Zone (LEZ) charge. He believes, however, that collaborative logistics is one of a raft of measures that the freight sector could employ to lower LEZ taxes for owner operators.
"If the government and industry builds large consolidation and distribution centres on the fringes of LEZs in Glasgow, Aberdeen, Dundee and Edinburgh in the future, it ought to be possible, through an Exchange, for non-compliant vehicles to connect with Euro-6/VI vehicles, and for those vans or trucks to transport goods for the last mile of the journey. With the transition from Euro 6/VI vehicles to zero emission ones likely to take much longer, it would probably be worth investing in high-tech cross-docking infrastructure."
But all in good time. As they say – it's a marathon, not a sprint after all…
To many reading this article, a run-of-the-mill laundry consignment may seem as insignificant as it is unremarkable. But, not for David Fegent, and his family. For them it represents a life-changing milestone, and one that remains etched in their collective memory banks. For this dry-cleaning run – which David transported from Cheltenham to an address in Aylesbury four years ago, was his first as a Courier Exchange member. And since then David and his son, Gavin, who owns Ariska Ltd., haven't looked back – and all because of CX.
David, who is based in the Wiltshire town of Royal Wootton Bassett, says, "We owe everything to Courier Exchange. It has transformed our working lives. Four years ago, I was working for a large same-day delivery operator and struggling to make ends-meet. My son was working in a supermarket. We'd heard about Courier Exchange from other drivers who'd discovered the platform and told us that they had dramatically increased their revenue streams though the Exchange. We thought it wouldn't hurt to contact CX. Following the call, which seemed to confirm the positive feedback we had gathered from members, we decided to take a leap of faith. Looking back, we're very glad we did so.
Continues David, "We bought a year's membership. As our finances were quite stretched at the time, it was quite a big outlay for us, and I still had doubts that the membership package we had bought would pay for itself. How wrong I was! Within a month, we had doubled our gross monthly earnings and, astonishingly, we'd achieved this milestone using only one van. From then on we recognised the Exchange's rich potential, or perhaps the opposite is true – it was a case of the Exchange recognising our potential and helping us to realise it."
CX: How CX helped Ariska Ltd. to transform itself…
So what is the secret of Ariska Ltd's success? "The CX technology platform has really helped us," says David, "The Live Availability Map (LAM) has been invaluable because it enables large logistic operators and freight forwarders, who want to work with us to track the real-time position of our vehicles 24/7, and call whenever they need to sub-contract a load."
David and his son, Gavin, make the most of the LAM by switching on the tracking facility on the Mobile App, to advertise their availability in real time.
David continues, "In the early days, the Mobile App helped us to win loads. By simply keying in when we were available, when we were busy and, most importantly, our destination, logistics providers saw that we were nearby and began calling us and offering us work. To this day, several of our clients in the north of England and in Scotland follow our position in real-time and whenever we are in their neck of the woods, more often than not, they'll call us to ask us if we are free to take a backload south of the border."
CX: providing members with a safe trading environment…
David also believes that the creation of a secure trading platform was instrumental in helping him and his son put the business on a firm financial footing right from the start.
Explains David, "Courier Exchange recognises and instils in all its members that hard work and excellent customer service are the two most appreciated attributes. For instance, we have never had to advertise, to build a website or to order business cards. Instead, CX members recognise that the most powerful form of self-marketing is the reputation that you build from your actions. So receiving positive feedback from your peers on a consistent basis is the best way to win well paid work from quality contractors."