Winners of Transport Exchange Group awards revealed
Last year was an extremely productive and profitable year for our 6,000 plus member organisations who make their living on Courier and Haulage Exchange.
Collectively, members posted nearly two million loads earning them over £175 million in the process – a 42 percent increase on 2017.
To celebrate, Transport Exchange Group hosted an annual members' evening and awards event on the 18th of June. Held in Coventry at the prestigious Double Tree Hotel, the gathering, which was attended by a record number of member businesses, was our most successful yet.
With collaboration being a key part of Transport Exchange Group's DNA, 300-plus members who attended had the opportunity to network with other like-minded members, share business ideas and learn about some of the new and exciting technologies soon to be launched by Courier and Haulage Exchange.
One of the main highlights of the evening was the awards ceremony. Staged once a year, it's dedicated to recognising and rewarding excellence in logistics.
With so many stellar operators to choose from, the judging panel had their work cut out for them this year. The competition was tough this year, but three member organisations in particular stood out from the rest.
Liverpool-based same day operator, Quickline Couriers, beat stiff competition that landed them the coveted 'Company of the Year' award.
Managing Director of Quickline Couriers, Andy Martin, said, "We're delighted to receive this award. We'd like to thank all of our staff for their hard work, and the many hundreds of owner drivers and companies, who make our business what it is. We'd also like to recognise the role that Courier Exchange has played in our development. Not only has access to its large, compliant virtual fleet helped us to scale up our business, but its smart technology has dramatically increased operational efficiency too meaning that we can cater for our customer's every need from pick up to drop off."
In the 'New Member of the Year' category, JD Delivery Notts Limited, triumphed. On picking up the award, Tomas Juozunaitis, the Managing Director of JD Delivery Notts Limited, a company specialising in nationwide same day courier services, said, "This is a very proud moment for JD Delivery as we are still in our infancy… The last year has been a great journey for us and we're excited to expand our business further with the continued backing of Courier Exchange. By utilising the excellent services and opportunities offered by the Exchange, we've been able to develop several new long-term business relationships, which have increased sales and, most crucially, have given us the confidence to grow our business."
In the last presentation of the evening, Thomas Reid was named 'Owner Driver of the Year'. Mr Reid wasn't able to attend the event due to a work commitment, but Transport Exchange Group, caught up with him the following day on his big win. He said, "It's a real privilege to be recognised. I am grateful to the Exchange. It has provided me with a unique opportunity to acquire a dedicated customer base and has been instrumental in helping me grow my business."
Chad Hazelwood, partnerships manager and member of Transport Exchange Group's judging panel, added, "The high standards set by our members meant it was incredibly difficult to pick the winners, but what separated them from others was their strong commitment towards community engagement. These guys went the extra mile to help others by posting positive feedback whenever it was merited. That may not seem a big deal. But believe me it is. Feedback is the lifeblood of a community like ours. It's the glue that binds it together, brings new members on to the platforms and helps everyone to grow."
Once again, a special thank you to all our members who took the time to attend. It was a pleasure to meet new faces and catch up with familiar ones. We look forward to seeing you at next year's event.
Company of the year:
Quickline Couriers
New member of the year:
JD Delivery Notts. Limited
Owner driver of the year:
Thomas Reid
Though today we rely on our vans and trucks to deliver goods across the country, not so long ago our friends in the animal world played a much larger role in courier work.
Today people can order something online in the morning and you can be delivering it to them by tea-time. However, in the past things weren't so simple. Getting mail from A to B could be difficult, and very slow. So, people trained animals to make the job simpler. Even today, in remote parts of the world, some animals are still playing postman.
Paws for thought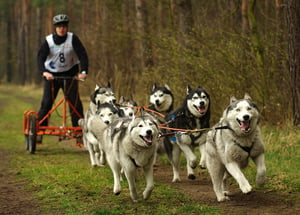 In the freezing wilds of Alaska and Canada, sled dogs were trained as couriers. Their strength and stamina meant that a team of dogs pulling a sled full of post was actually the most efficient way of moving mail.
Everyone knows that dogs can be trained to do some amazing things, however, cats are a different matter. Despite this, an ambitious town in Belgium tried to get cats to deliver letters in the 1870s. As you might have guessed, the scheme was not a purr-fect success. The cats kept to their own schedules and took days to deliver the post
The Original Airmail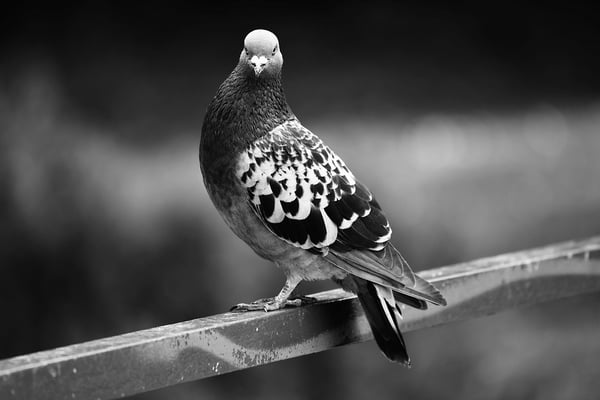 Pigeons were used in the world wars to carry out important courier work. They have an incredible ability to find their way back to their nests no matter where they are released. However, as homing pigeons really only fly back home they only make excellent messengers if you want to send all your letters to one specific place.
Hold Your Horses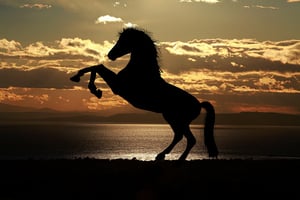 Or rather, don't! Horses were by far one of the most efficient ways of moving mail around the country before more modern delivery systems began. Horses are fast and, with a rider, of course, made courier work pretty easy.
Speaking of hooves, a more unusual method of delivery in colder climates is the reindeer. I'm not talking about Santa, most people using reindeer to make deliveries can't fly. In some areas of the world reindeer, with their specially adapted hooves are still one of the only ways to deliver goods.
Thankfully these days you don't need to rely on animals to make courier work pay, all you need is a membership to Courier Exchange to help you find the business you need.
Although the list of alternative fuels to choose from may seem long and a bit complicated, Liquefied Petroleum Gas might save the day with its beautifully simple viability for most van drivers or fleet couriers.
Simply put, Liquefied Petroleum Gas (LPG) is both a fossil fuel and a by-product that can be stored under pressure as a liquid in tanks mounted in a van's spare wheel cavity. This fact alone makes it one of the best contenders in the great 'which-alternative-fuel-to-choose' debate. LPG's other attributes include:
An LPG van can manage a similar payload as a regular van with the fuel tank mounted in the spare wheel cavity. Additional tanks, to accommodate long-distance driving can be fitted in the load space.
LPG offers excellent distances and number of runs in between refuelling events.
LPG vehicles are bi-fuel meaning that they can work with either LPG or petrol.
A single tank can take you up to 300 miles.
With over 1500 refuelling stations across the UK, availability is no problem.
The fuel operates well in all driving situations such as inner city or rural environments.
Environmental Bonus
From an environmental stand-point LPG wins top points. Compared to petrol:
LPG vehicles emit fewer pollutants that harm air quality.
They are quieter during operation.
The Fuel Life Cycle CO2 offers a 15% saving.
The tailpipe CO2 offers a 10% saving.
Incentives
The government offers a small incentive for choosing to use LPG as an alternative fuel (£10 off Vehicle Excise Duty fees) but the real savings are at the pump. Compared to both unleaded petrol and diesel, LPG comes in around 50% less per litre. With fuel costs on the rise this savings is significant enough to be felt on your bottom line. Companies have reported an annual running cost savings of nearly 40% with the use of LPG vehicles instead of petrol fuelled ones.
The time is now to make the commitment to the use of an alternative fuel if you want to stay in the game. Between penalties and the prices at the pumps affording to remain in the world of diesel or petrol simply is not an option. The alternative fuel choices out there are growing and with newer technology their viability and affordability increases every day. Ultimately it comes down to the decision of which type of 'green' suits you best.
With biodiesel's popularity on the rise, it's time for those in the logistics industry to decide whether or not it's a plausible alternative for them, or if they're going to remain faithful to the fossil diesel that's been their bread and butter all these years.
As society becomes more environmentally conscious, we're continuously on the lookout for ways to reduce our carbon footprint.Because of this, many people are switching to biodiesel fuel. Obtained from used cooking oil and/or vegetable crops, it is both renewable and a low carbon alternative source to fossil diesel.
There are no legal requirements in place for transport or haulage companies to choose this sustainable fuel over traditional diesel, as yet, but many are still choosing to do so. Read on to see the pros (and the cons) of biodiesel and decide for yourself whether or not you agree with switching over. (If you want even more information on the subject, check out this post from Low Carbon Vehicle Partnership.)
Pros
It's great for motorway, city and suburban driving.
When obtained from used cooking oil, the environmental repercussions are very low.
Less particulate matter is discharged by vehicles that use it.
It is renewable.
CO2 emissions may be reduced when using biodiesel manufactured from used cooking oil.
Biodiesel vehicles can also run on regular diesel, with no need for separate tanks for the two different fuels.
Cons
They may require more maintenance than their diesel-fuelled counterparts.
A vehicle's fuel delivery system must be specifically engineered to be compatible with biodiesel.
NOx emissions may be slightly heightened.
Similarities Between Biodiesel and Diesel
The same mileage per tank.
The vehicle's carrying capacity isn't affected.
Tailpipe emissions are the same.
Both are easily available.
Noise and air quality are similar.
What are your opinions on using biodiesel fuel? Do you side with the environmental pros, or are the cons not worth the hassle and cost of updating (and then maintaining) your vehicle?
The UK has a new weekly ritual – and no, it's not going to church every Sunday with Nan. Consumers are heavily increasing their online shopping quota, with over a quarter making at least one purchase a week.
An article by Post&Parcel has brought something important to our attention: online shopping is the next big thing. (Something I think most of us would already suspect!) With its popularity skyrocketing every year, and buyers' increasing desire for convenient purchasing, it's becoming more and more evident that this trend is here to stay.
By the Numbers
Here are some online shopping stats that may surprise you.
Last year, 22% of consumers in the UK shopped via the internet each week. This year? 26%!
68% make internet purchases once a month – a whopping two-thirds of the population.
3% online shop every day.
And when it comes to delivery subscription schemes (think Amazon Prime)…
28% of all Brits are part of one of these schemes.
18-24 year olds make up 40% of these subscriptions.
37% are 25-34.
35% are 35-44.
Even minors are getting in on it – 27% are 16-17.
Why Should I Care?
Even if you're not into internet shopping yourself, if you're a part of the courier industry, it's important to be aware of this trend. It's good for business (more online shopping = more deliveries…and who better to make those deliveries than you?), and it's showing no signs of slowing down. With the younger demographic especially fond of this relatively recent phenomenon, one thing's for sure: it's going to be around for a while.
With the increasing popularity of online shopping it's not going to be long before it takes over the world. Do you make use of it, or do you prefer to take the old fashioned route and head down to the shops? If you do make purchases via the internet, what kinds of things do you like to buy? Let us know in the comments.
The MPs' vote to go ahead with third Heathrow runway is a rare piece of good news for the haulage industry. More cargo coming in means more jobs, and everyone will be able to get a slice of the action.
As a courier driver, it can feel as though all the government does is create challenges for the logistics industry. Every few months there is something new which threatens to slow the growth of this fast-paced and forward-looking industry. June finally brought us some good news with MPs making a key decision which could boost earnings for UK courier firms.
Heathrow Third Runway: Good for Business?
The FTA has been a long-time supporter of the expansion of Heathrow and say that Brexit has only made a third runway more important for the industry.
Why do we need it?
A third runway will make Heathrow a global hub airport. This means that it will be at the centre of a huge, international trade network – ideal for post-Brexit Britain. The expansion will provide:
Increased capacity for business
New trading partnerships
Access to new world markets
The ability to compete with Asia and America
Despite these impressive arguments, it has taken a long time for MPs to agree to the airport expansion.
Better Late Than Never
Finally, after years of debate, the plan was given the thumbs up from government. The third runway promises to create new jobs in the UK, especially for couriers. The expansion means that more cargo can be flow in and out of the country. This means more cargo needs shuttling to and from the airport meaning an increase in work for drivers. Global importers and exporters will use the new runway to bring goods into the country and couriers will be there to pick them up.
Many are saying this expansion will create new jobs in the haulage industry. It certainly sounds like there will be plenty of opportunities for large and small firms alike.
Keep your eyes on the prize (and on the jobs!) by using Courier Exchange to help grow your business. As soon as the new runway is up and running, you'll need to know exactly what jobs are out there, our easy-to-use platform helps you find ideal courier work quickly.
Delivery of semlor by Patrik Nygren is licensed under CC BY 4.0
Hello, my darlings!
As I sit down to write this post, I have mixed feelings. I'm surprised, a little embarrassed, but also a little amused. Why? You're about to find out!
The thing is, in the time since I last posted on here, I've had a message from a reader who – among a lot of praise, which I'm really appreciative of and humbled by – pointed out a rather surprising fact. Apparently, in all the time I've been writing this blog, we've never once discussed the different types of courier driver jobs available for someone just starting out or wanting a career change!
Can you believe it? Four years of writing a blog where we discuss all things courier-related literally every week, and we still didn't have such a basic and simple post as that! I'm guessing it's because almost everyone who reads Gertie's Cafe is already a courier driver, and doesn't need this explained to them. But for the benefit of those just starting out, or who have stumbled across this blog because they're curious about the world of delivery driving, let's talk a little while about the different types of work available.
Different Types of Courier Driver Jobs
I assume many of those reading this article already know that, when starting out in the world of delivery, you can join a large company or become self-employed. But I would bet many of you didn't know you could also specialise in certain types of jobs. You can, for example, become a technical courier driver, delivering technical products and helping install them once you get there; specialise in lifestyle and mail-order products; or be the 'go-to' person for international deliveries.
The length of the jobs available also tends to vary, with some lasting a full day, others demanding that you perform several deliveries on the same day – and some even going on overnight or for a longer period of time! It's up to the individual driver to choose which of these they prefer and try to make sure their new job matches their preference – after posting this, I don't want to hear any whining about how you don't like the type of jobs you do! Are we clear, young ladies and gents?
Just teasing, my darlings – you know I adore you! Be here next month for the requisite dose of Christmas-y posts.
Until then, as ever, ta-ra!
Gertie
x